SMOOTH WALKER HORSESHOES
Introducing the new Smooth Walker "Pitching Shoe"
Available in black. Colors and regulation size coming soon."
The inductory price is $11.00 per shoe. This is different from our pricing on our other shoes (www.smoothwalker.com) ,
not intended for pitching.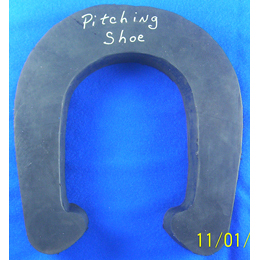 "These shoes are the only shoes we sell that are not intended for use on horses or mules!"

Not for Hitchin'
Just for Pitchin'
Technical Data
Composition
All Rubber - No metal
Width
7 3/8"
Height
8"
Thickness
1 1/4"
Opening at Heel
2 5/8"
Weight
1 1/2 lbs